La Clairière
CAMPSITE WATER PARK
Experience the fun and delight of the extensive water features area at La Clairière campsite. A paddling pool for the little ones, two swimming pools (including an indoor one), a water slide, a large tropical lagoon surrounded by white sand, and a water play area for your children all await you on your next holiday in Charente-Maritime.
PREPARE FOR FABULOUS FAMILY-TIME
You'd like to know what the day holds in store for you at the campsite's bathing area? How about beginning with a quick dip in the delightfully refreshing tropical lagoon, it'll make you feel so good! Then perhaps try speeding down the waterslide, the kids will absolutely adore it! The youngest wants to go and play in the aquatic playground? Splashing and laughter for everyone!
And, after all that, you might just need a spot of relaxation. Go on, allow yourself a little time out to laze quietly on the sand, as your other half heads back to childhood, and an amazing time in the covered swimming pool with your little cherubs. So, what do you think of the programme? Pretty good, no?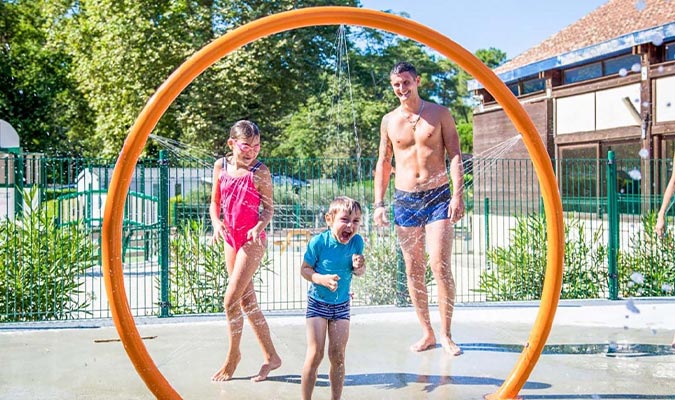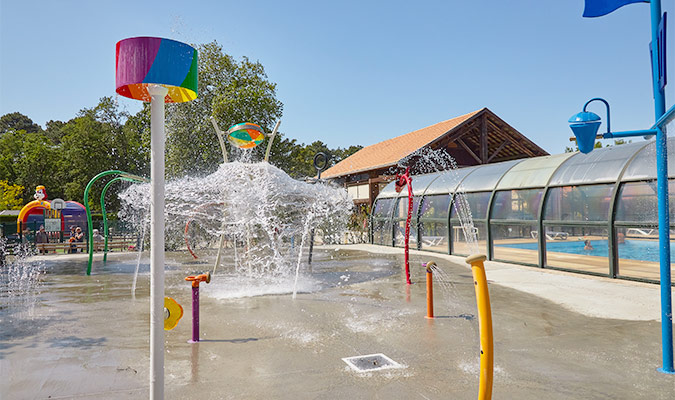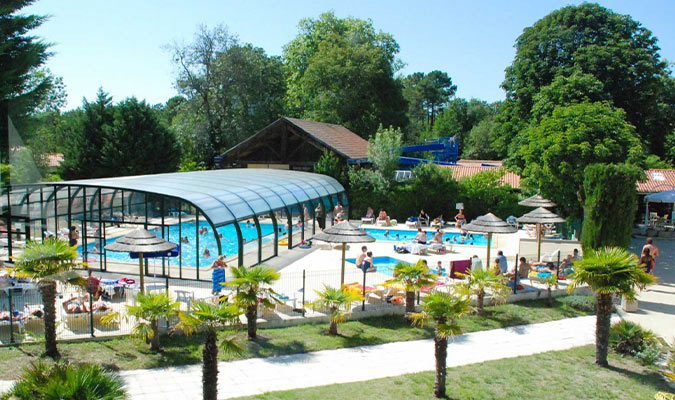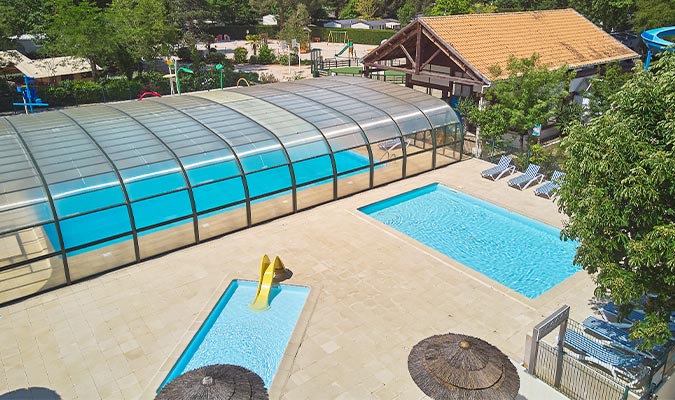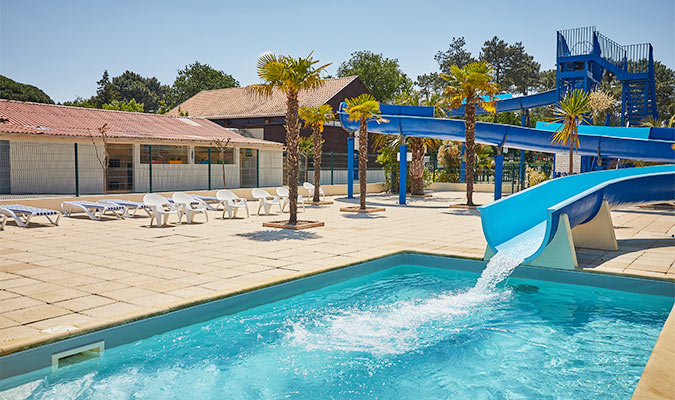 A SUPERB LAGOON WITH WHITE SAND FOR NATURAL SWIMMING
La Clairière campsite strives to always offer the best new and innovative features and is equipped with a gorgeous 1,300 m² lagoon in which young and old alike can swim and have fun in the water. This vast space with a tropical ambience has a maximum depth of 1.5 m (4 ft 11 in). The children will also be free to enjoy this beautiful oasis with sun loungers and sunshades set out all around it, as the water goes from just 30 cm to 60 cm deep by the beach. The beautiful lagoon on this campsite at the heart of France's Charente-Maritime region has been conceived and designed as a place to spend convivial moments, relaxing in the company of family or friends.
To enable you to quench your thirst between swimming and/or sunbathing sessions, and in keeping with this space's exotic atmosphere, a beach hut cocktail bar is available in the high season. The campsite's lagoon offers access for people with reduced mobility and has a number of special beach wheelchairs available to loan. For the convenience of holidaymakers, there is a toilet block located in the blue and white cabin close to the lagoon.
In the surroundings of the 1,500 m² of white sand you'll find majestic palm trees, unheated outdoor showers – perfect for when you've just stepped out of the lagoon – and a gorgeous waterfall feature designed to feed and circulate the water.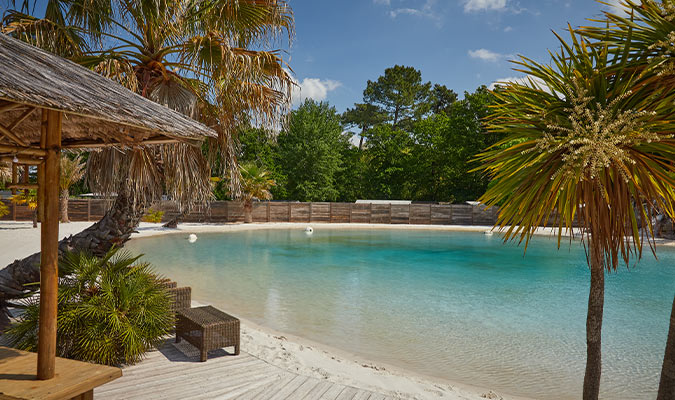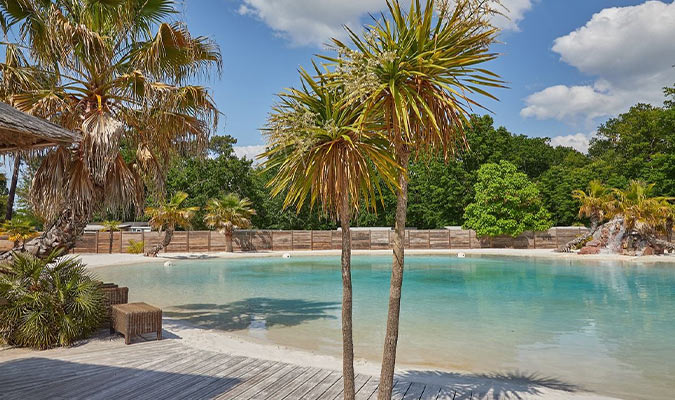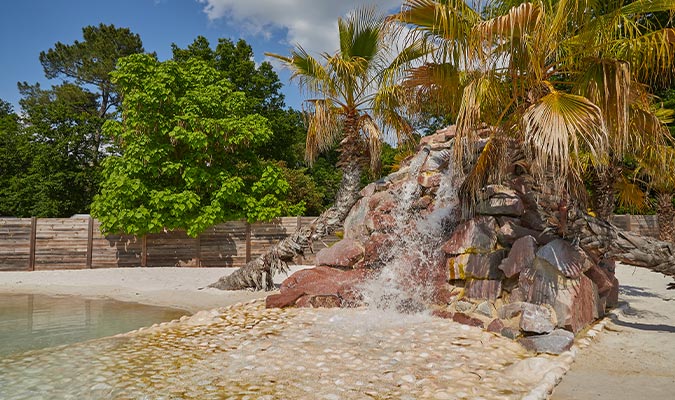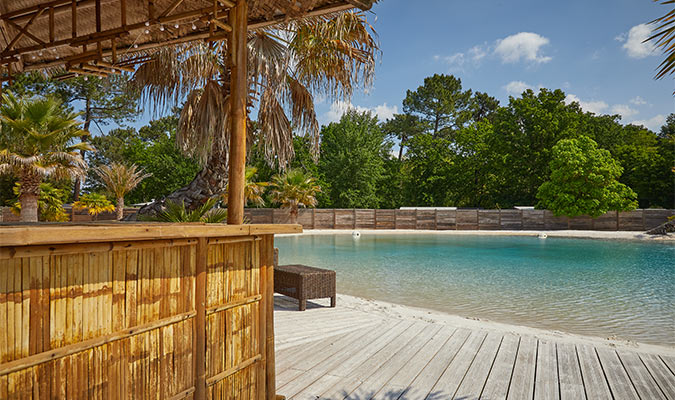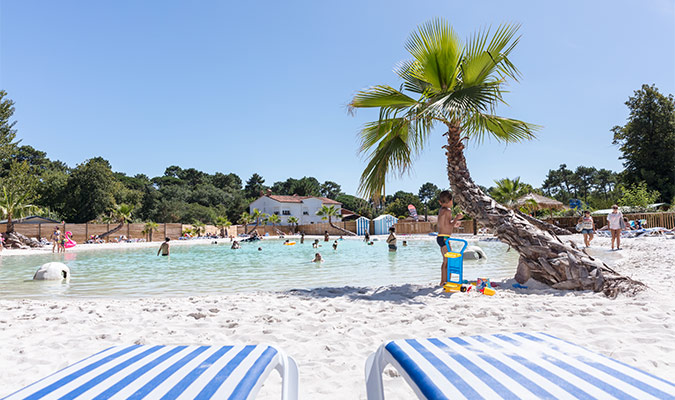 PRACTICAL INFORMATION
All the facilities are free of charge and open in both the low and the high season.
The campsite's water park offers a range of features for you to enjoy, including a water playground, a paddling pool, a lagoon, a heated covered swimming pool, a sun terrace and water slides.
Only swimsuits and non-baggy swimming shorts are allowed in the campsite lagoon: baggy shorts and traditional brief-style swimming trunks are not permitted.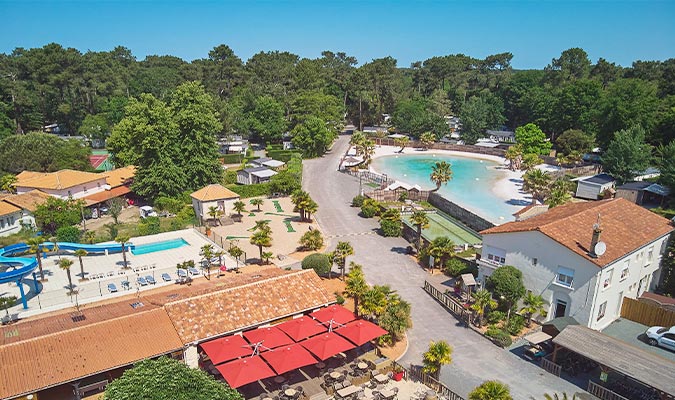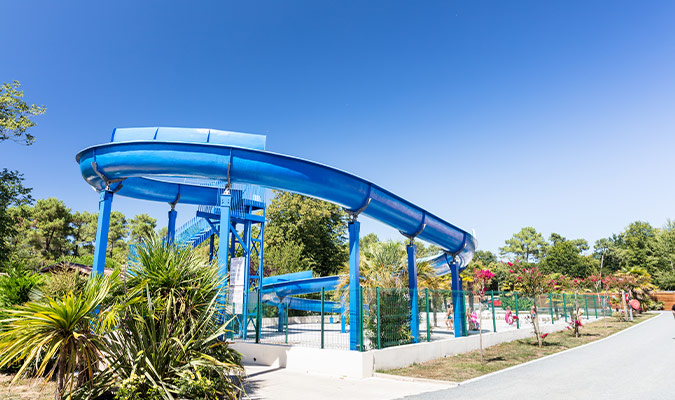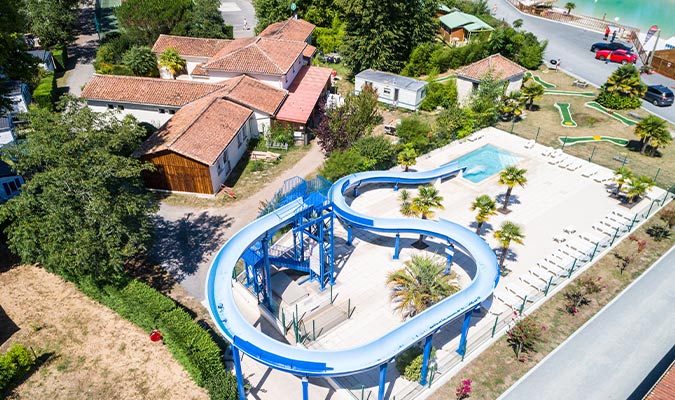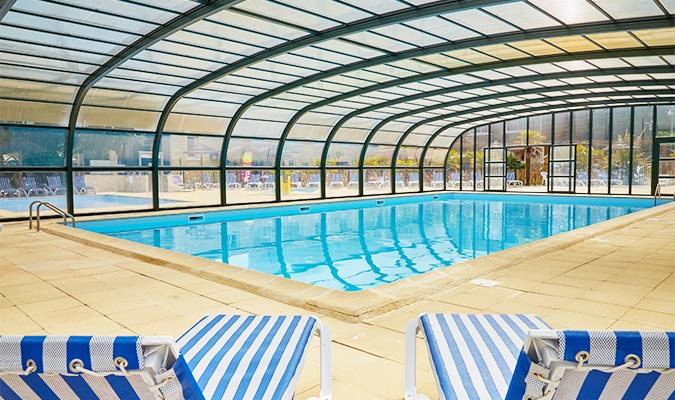 DISCOVER THE CAMPSITE ACTIVITIES AND ANIMATIONS...