La Clairière
CAMPSITE NEAR ROYAN
Discover Charente Maritime's finest seaside resort – Royan!
DISCOVER ROYAN
Royan is a coastal town of art and history. It was destroyed during the Second World War but rebuilt in the 1950s so offers a surprising architectural mix. As you wander through the town centre, look out for the unique buildings – in the Parc de Pontaillac and Foncillon districts, for example, where 19th-century seaside villas stand alongside typical 50s-style houses. Then why not visit Royan's museum in the historic centre of the town?
For some fresh sea air, carry on to the marina in the heart of the town. At dawn, you can watch the fishermen come back in – a wonderful sight.
Take the time for a drink on a café terrace by the harbour. Or you could even embark on a boat trip to discover the Gironde estuary and Cordouan lighthouse.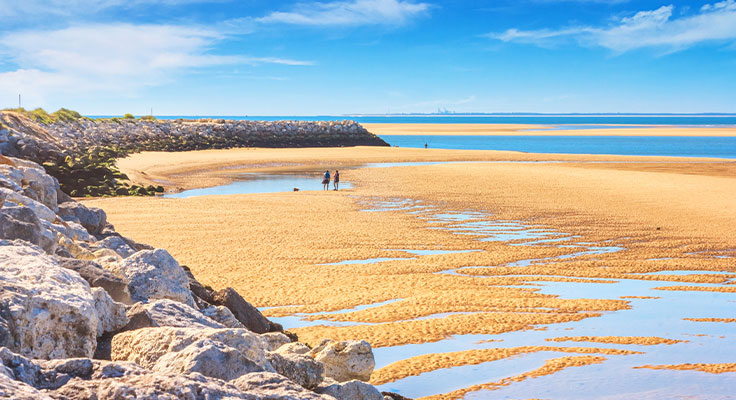 WHAT TO SEE AND DO IN ROYAN
A proper seaside holiday! With five beaches, Royan is the perfect place to come and enjoy the Atlantic Ocean. Thrill-seekers can try their hand at sailing with the Régates de Royan club or catch some waves on their surfboard – the "hip and happening" district of Pontaillac is a highly popular surf spot!
Royan offers an array of other activities such as cycling along the Vélodyssée path, tennis on the courts overlooking the ocean, horse-riding, golf, hiking and even parachuting! You're truly spoilt for choice!
Route: La Tremblade – Royan 27 mins – 24 km via the D14
DISCOVER LA ROCHELLE: HERITAGE, OCEAN AND HISTORY...